Chris Sidoti speaks to The Sydney Morning Herald
Singapore: Australia is facing a renewed call to introduce fresh sanctions on Myanmar's military government with Sydney economist Sean Turnell still languishing in prison nearly four months after he was detained in the days after a coup.
The Australian Council for International Development has illustrated contrasting responses of different countries to the bloody takeover in a document delivered to Foreign Minister Marise Payne.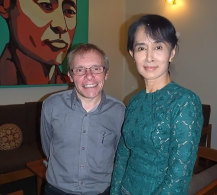 The analysis chart spells out how the United States, UK, Canada and the European Union have sanctioned junta chief Senior General Min Aung Hlaing and a combined 38 senior figures in the aftermath of the February 1 coup. All but Canada have also black-listed military conglomerates Myanmar Economic Corporation and Myanmar Economic Holdings Limited.
Australia, by contrast, has not added to the five officers it sanctioned in 2018 over a campaign targeting the country's Rohingya Muslims that according to a United Nations fact-finding mission included mass rape and enforced disappearances. That list does not include the leader of the Tatmadaw, as the military is known.
But with Turnell, a former adviser to overthrown civilian leader Aung San Suu Kyi, still behind bars in Insein Prison and yet to have charges against him formally announced, there are questions about what sway the Australian government has at all.
"It's hard to see evidence of them having any influence. Sean Turnell is still in jail," said Chris Sidoti, a former Human Rights Commissioner and UN investigator on the treatment of the Rohingya. Sidoti has since the coup formed the Special Advisory Council for Myanmar with fellow experts on the troubled south-east Asian nation.
"For 25 years now Australia has tried to maintain dialogue with the military. If after 25 years they feel free to arrest and imprison an Australian citizen on trumped-up charges, and Australia can't do anything about it, you've got to reach the point where you say 'this strategy has failed and we need to do something different'."
Sidoti supports the ACFID's submission to Payne, seen by The Sydney Morning Herald and The Age. It says that "as a regional economic power, Australia has an important role to play in coordinating sanctions with like-minded governments to limit the power and influence of the Tatmadaw, supporting an end to violence and return of the democratically elected government."
The new call for action comes after American journalist Danny Fenster, the managing editor of media outlet Frontier Myanmar, last week became the latest foreigner to be detained by security forces. The military crackdown against the pro-democracy movement is reported to have killed more than 830 people and resulted in nearly 5500 arrests.
It also arrives with ASEAN having so far been wholly incapable of reining in the junta. It is yet to appoint a special envoy to Myanmar five weeks after it announced the measure as part of a five-point consensus on the crisis at a leaders' summit in Jakarta attended by Min Aung Hlaing.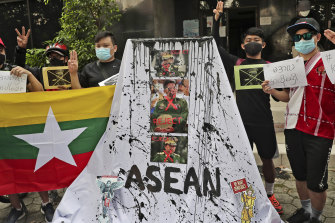 Christopher Lamb, a former Australian ambassador to Myanmar and president of the Australia Myanmar Institute, said there had also been no direction from the Australian government about how businesses should respond to the coup.
"There are quite a lot of Australian companies who work there," Lamb said. "In the end, that's where sanctions will matter."
Lamb argues blanket sanctions are of no value but says "carefully targeted sanctions can be useful and should be part of our package".